Robin and Alan
On-Line Known as
Birdie and Male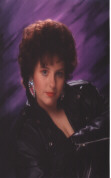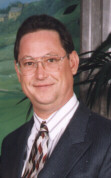 This page was created November 10th, 1998
Last Updated May 1st, 2000

Playing the midi
Truly, Madly, Deeply
by
Savage Garden
as requested by Male.
I have talked to Male for a few years now, mostly in WCool Chat, but once in a while on ICQ. We are in the same profession so it was easy to become friends. (If we worked together I could tell him where to go all the time and heíd have to do it. I just love telling Police Officers where to go!!! hehehehe) He is also a part time DJ, and from all reports, a good one. Iíve only had the pleasure of talking to Birdie a few times but she is very nice and funny lady. They make a perfect couple, as far as Iím concerned, and even more so now that I actually got to meet them in November of 1999. (Thanks Alan, Robin, Kitty, and Fred for coming all the way to Topeka to visit. Next time, I hope we can spend more time together.)
Hereís Robin and Alanís Story
as told to me by Male.
November 9th, 1998
Like so many, they met in a chatroom on the Internet. When Male told me they met at the 1st Wicked Cool Chat on-line Reunion, I had to smile as it brought back a lot of fond memories. The Reunion was an invitation-only event, so, when Birdie entered WCool that day, it was pretty empty. She ask where everyone was, a friend, 6pack (who also crashed, so he says, because his name was not on the Invitation List) quickly gave her the addy to the site where the Reunion was being held in GottaDance's Chatroom. So, as Male stated, she crashed the party. (I have to add here that nice people don't crash a party, they just make it better.) It was just fine, as....she was a very nice lady with a great sense of humor. The Reunion went on for the better part of four days. Birdie and Male continued talking even after the Reunion was over. Their friendship grew and finally they decided they had to meet, and they decided to meet the first time in Tulsa, Oklahoma, on November 14, 1997. Male said it was love at first site. They were going to spend the weekend together but didnít leave until Monday as they wanted to watch Chiefs and Denver on Sunday night together. So Monday, Birdie headed back to Dallas and Male to Kansas City.
As Male was driving to work on Tuesday, he made his "daily wakeup call" to Birdie. At some point in their conversation Male told her he had to tell her something but didnít know if he should or not as he didnít know how sheíd take. (I donít know for sure but I almost bet her heart sank to the floor and began beating rather quickly.) Then he went on to say that he thought he had fallen in love with her. She replied, "I know Iím in love with you !!!!"
Over the next few months they met several more times. On December 5th, Birdie flew to Kansas City. December 31st, Male spent New Years in Dallas with the woman he fell in love with. January 12, Birdie returned to Kansas City. The end of February, Male flew back to Dallas again. The weekend of Birdieís birthday, March 15th, she was back in Kansas City with Male. Then again the 1st weekend in April she flew back to Kansas City. Finally on April 24th, Birdie packed her bags and moved to Kansas City to be with Male.
On November 16th, 1998, Denver and the Chiefs duke it out again, but this time, instead of watching it on TV, they will be in the stands with all the other fans, watching the game together. He never really said who they would be cheering for but I just bet itís not for Denver!!!
Robin and Alan, I wish you both a long and happy life together.
Congratulations
Ronin and Alan

Married
December 19th, 1999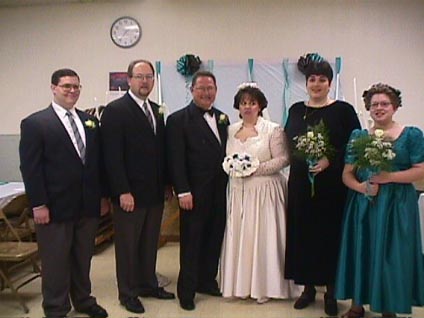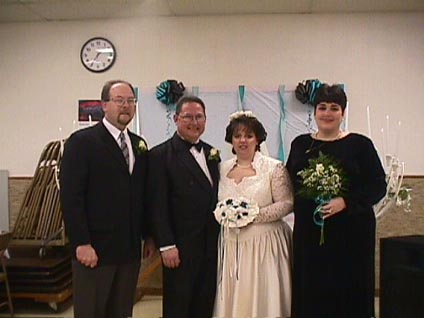 Congratulations and Best Wishes
for a long and happy life together.
Marriage Joins Two People in the Circle of Its Love
Marriage is a commitment to life to the best that two people can find and bring out in each other. It offers opportunities for sharing and growth that no other human relationship can equal, a joining that is promised for a lifetime. Within the circle of its love, marriage encompasses all of life's most important relationships. A wife and a husband are each other's best friend, confidant, lover, teacher, listener, and critic. There may come times when one partner is heartbroken or ailing, and the love of the other may resemble the tender caring of a parent for a child. Marriage deepens and enriches every facet of life. Happiness is fuller; memories are fresher; commitment is stronger; even anger is felt more strongly, and passes away more quickly. Marriage understands and forgives the mistakes life is unable to avoid. It encourages and nurtures new life, new experiences, and new ways of expressing love through the seasons of life. When two people pledge to love and care for each other in marriage they create a spirit unique to themselves, which binds them closer than any spoken or written words. Marriage is a promise, a potential, made in the hearts of two people who love, which takes a lifetime to fulfill.
By Edmund O'Neill
Back to
The Love Connection
See the complete Background Set used
on the Love Connection Pages by
visiting Marie at....
© Copyright QT's Place since 1997